I'm very pleased to report that Snelson: Comedy Is Dying, the graphic novel that artist Fred Harper and I recently published with AHOY Comics, was featured on the New York Public Library's list of Best New Comics for Adults for 2022.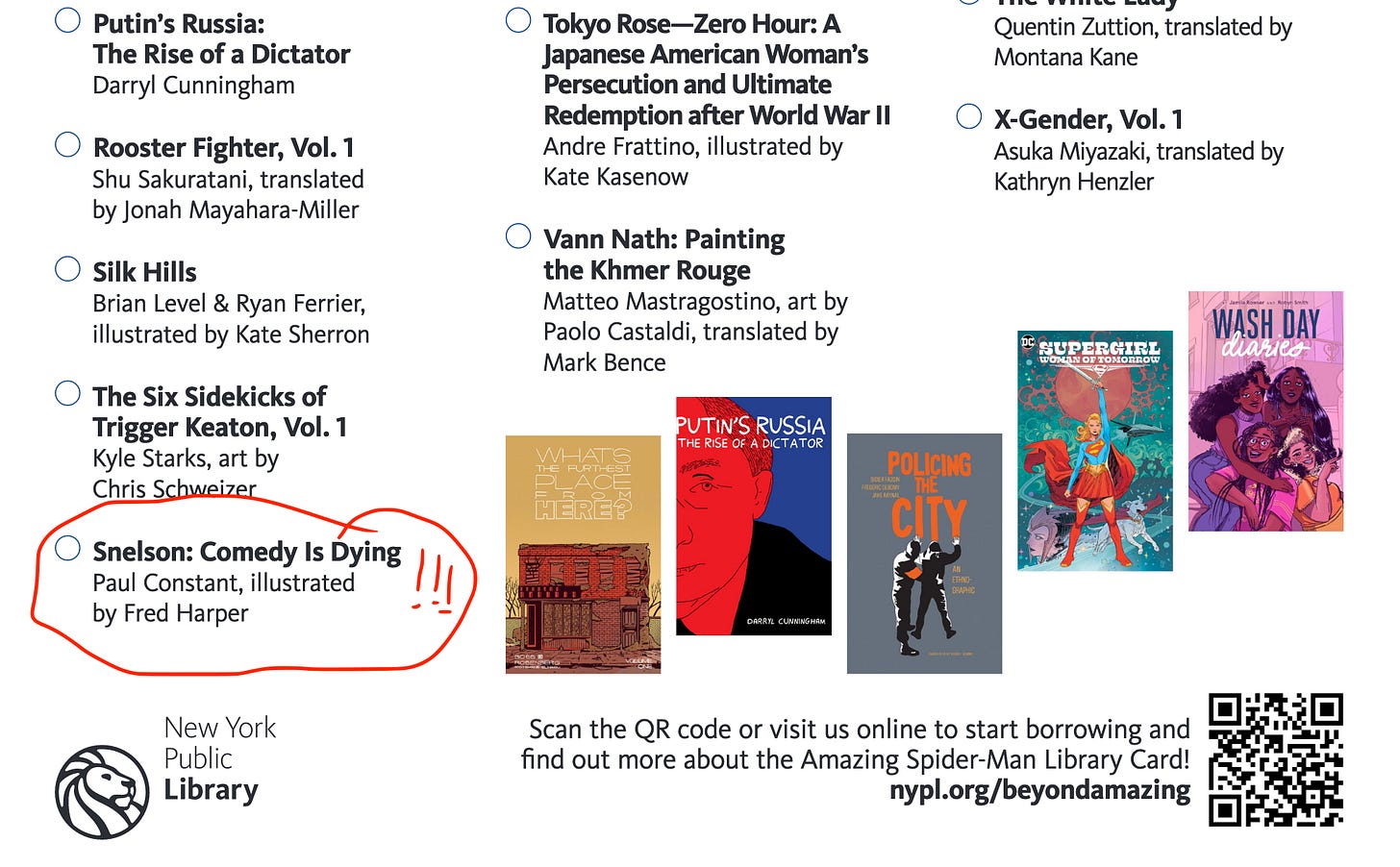 This one means a lot to me. While many year-end and best-of lists are loaded with pay-to-play advertorial content, this list is assembled by librarians with no other motivation than to promote the books that they love. I'm honored that they chose to highlight our work, in a year that saw the publication of so many great comics.
There's such great company on this list! I've written about how much I enjoyed Ram V and Filipe Andrade's Sandman-esque The Many Deaths of Laila Starr in this newsletter, The 6 Sidekicks of Trigger Keaton is one of the funniest comics I've read in a long time, and I can't wait for the second printing of Kate Beaton's long-awaited memoir Ducks to drop so I can finally get my hands on a copy.
Everybody is making so much stuff all the time that publishing new work can occasionally feel like tossing yourself into the Grand Canyon. This kind of recognition is a reminder that it does exist in the world, and that people do respond to it. And not just any people—book people. My people!
In a year that has been tough on librarians and libraries, I just want to express my thanks to, and admiration for, the good people of the NYPL. Everyone who helped create Snelson and send it out into the world was deeply moved by this recognition. Thank you for all your work. It means the world to us. What a thrill, what an honor, what fun!
I've been writing
As part of a big special celebration of the West Seattle Junction in the Seattle Times, I profiled Pegasus Book Exchange, an amazing used-and-new bookstore that has been an anchor of the Junction for four decades but which still has recently managed to become a bit of a local star on TikTok. On one of my visits to the store in writing this piece, I discovered a novel written by comic writer Steve Englehart that has been on my want list for decades. Pegasus is that kind of place—a bookstore where you casually stumble upon books that have haunted you for years.
And for Insider, I wrote about how the housing market is making income inequality worse, and why it's a hugely bad idea to treat housing like an investment.
I've been reading
I really dug A.M. Homes's The Unfolding, which could technically be described as a Franzen-esque novel about a wealthy family falling apart in 2009 but is actually a book about how white American men absolutely lost their minds when a Black man became president. There is a scene in this book that is so absolutely insane, so wild, that I can't believe Homes managed to insert it into this story without breaking the narrative. (The scene involves prehensile toes. You'll know it when you read it.) It's funny, it's weird, it's excellent satire about a recent time that somehow feels like ancient history.
Speaking of President Obama, one of my favorite observations of his presidency comes from someone—I think an anonymous source, but I can't recall for sure—who told a journalist that Joe Biden and Barack Obama's relationship worked so well because each believed that they were the wise counsel in the friendship, giving the other one much-needed advice and insight. The Long Alliance, Gabriel Debenedetti's account of the Obama-Biden partnership, doesn't contain that particular observation, but it is a thoughtful history of one of the most successful president-vice-president working relationships in American history. I especially appreciated a story about Biden inviting the newly elected Senator Obama out to dinner—Biden suggested an Italian restaurant in DC that he liked because it was good and cheap. Obama got offended because he thought Biden was suggesting he couldn't afford an expensive restaurant, and then Biden got offended by Obama's offense because he thought Obama didn't appreciate his reputation as the poorest senator. It all feels so wholesome, in retrospect.
Aside from its cheesy soundtrack, I really enjoyed Confess, Fletch, the Jon Hamm-starring reboot of the popular Chevy Chase mystery-comedy film series. The dialogue was sharp, the mystery felt substantial, and the movie didn't insult its viewers' intelligence. I dug it so much that I went back and read Gregory McDonald's very first Fletch mystery, Fletch. It's not as outright comedic as Confess or either of the Chevy Chase adaptations, but it is a sharp little thriller set in the burnout world of the 1970s. And there's a neat trick in the middle of the novel where Fletch sits down and reads everything he knows about the case into a tape recorder, which is a clever way to remind readers of everything and everyone they've encountered so far. As someone who has a hard time remembering character's names, I really appreciated the expository handholding.
Ongoingness is Sarah Manguso's nonfiction literary collage about keeping a diary. I've come to love these short, contemplative books that focus deeply on a subject in a kaleidoscopic burst of brief observations—Maggie Nelson's Bluets is a great example, and Claudia Rankine's Citizen is probably my absolute favorite because it takes the form further than anyone. As someone who has never successfully managed to keep a journal for more than two days at a time—honestly, this newsletter might be the closest I've ever managed to a diary, come to think of it—I appreciated Manguso's deep thinking on the subject.
I've read every one of Charles Portis's novels, so I thought I would never again read a new book with his name on it. But then a couple months ago I found a big chunk of unread Portis at Mercer Street Books, in the form of a collection of his journalism, short fiction, and plays called Escape Velocity. The big surprise for me was how much I loved Portis's journalism, in which he documents the death of Elvis's mother and the dawn of the civil rights movement of the 1960s. It's not flashy gonzo journalism, but there's so much of Portis's self in those stories that you feel like you're inhabiting his body, watching those events unfold. I was disappointed by Portis's full-length play, which was too talky and fairly uninteresting, but then I learned when I read Vonnegut's play Happy Birthday Wanda June that there is not necessarily a great playwright waiting to burst out of every great novelist.
I haven't read very many good prose novels about superheroes—broadly speaking, I think the interiority of a novel tends to clash with the visual appeal of superhero stories, which is why superheroes excel in comics and movies. But Natalie Zina Walschot's novel Hench is the exception that proves the rule—it's the story of a gifted and talented young henchperson who is wounded in a crime gone wrong, and then finds herself at the center of an even larger conflict between heroes and villains. The author is great at imagining the banal day-to-day existence of people who do superheroics and villainy for a living, and there are real bursts of genius—one passage in which the protagonist learns how to see the world with ultraviolet vision will stick with me for a long, long time.
Richard Stone's Mammoth: The Resurrection of an Ice Age Giant opens with a survey of all the people who are currently racing to use excavated mammoth DNA to bring the extinct species back to life. It's only about halfway through the book that Stone really digs into the question of whether we should bring mammoths back from extinction. (And while everyone's talking about bringing extinct giant animals back to life, I'm personally kind of rooting for scientists to bring back the dodo. I've always felt bad for those poor little guys.) I liked this book, but I honestly would've been happy just reading an article about the subject.
I found Lucy Knisley's early travel memoir French Milk in a Little Free Library in West Seattle. I love Knisley's autobiographical comics, but had never even heard of this particular book, a pleasant and slight account of Knisley's six-week trip to Paris with her mother—they eat pastries, walk around, get annoyed with each other, and have trouble navigating the fact that Knisley, fresh out of school at 23, is becoming her own person. It's not so much a comic as a heavily illustrated journal, so it felt a little like eavesdropping on someone's account of a relatively uneventful, but emotionally consequential, vacation.
Tweet less, read more
Well, Elon Musk bought Twitter. Within hours of the deal closing, various heinous slurs were trending on the site as the worst people in the world celebrated Musk's supposed free-speech absolutism. I'm not saying that Musk should be personally held responsible for all that hate, but I am saying that if literal Nazis thought I was a pretty cool guy, I'd immediately investigate every single choice I ever made in my life.
Musk celebrated his first few days in charge of Twitter by spreading false conspiracy theories about the attack on Nancy Pelosi's husband, essentially calling the New York Times fake news, and accusing the Guardian of being a "far left wing propaganda machine." Those attacks on news organizations have consequences: I've already noticed that emboldened bigots are brigading prominent journalists on Twitter, and I don't want to participate in that kind of an environment. I'm leaving my account open for work purposes—I'll retweet stuff, as kind of an automated signal, for as long as Twitter retains its influence—but I obviously can't and don't want to spend time on the site.
I'm still trying to figure out my new routine. I tried to return to Tumblr, and I love some of the artists and unabashed fans of nerdy stuff that have flourished on the site, but there's absolutely no news or immediacy on there. I reserved placeholder @paulconstant accounts on all the networks that people are talking about as Twitter replacements: Mastodon, Counter Social, Cohost. But none of them have reached the kind of velocity that I liked about Twitter.
One thing I have done, though, is beef up my RSS feeds. I'm a big fan of NewsBlur, which became my RSS reader of choice when Google Reader closed down. And I recently found an app called Unread that turns my hundreds of RSS feeds on Newsblur into a very readable, chronological stream of what's happening in the world. This seems to have scratched my reading-Twitter itch. I used to scroll through Twitter while standing in line, or waiting for a train, and now I read articles from sites like the Washington Post, Vox, and all the comics and culture news blogs I follow, as soon as they're published. It feels like a positive change.
So that's the reading part of Twitter sorted. I'm less concerned about where I'll post my thoughts. I was posting less on Twitter over the last year, anyway, and I've grown to appreciate not forming and broadcasting an immediate opinion on everything.
But as recently as last month my monthly newsletter was hosted through Revue, the newsletter service owned by Twitter. I appreciated at the time that Revue was linked so tightly to Twitter's service, but the emails were a nightmare to format and the writing experience was awful. So because the end of the month was looming, and a decision had to be made, I just moved the whole operation, archives and all, over to Substack. 
Of course, Substack has its own problems. They platformed some of the biggest TERFs in media, using the typical Silicon Valley "free market of ideas" bullshit as cover—spend any time reading about economics and you'll learn that unregulated free markets are a terrible idea—and I expect they'll be at the center of even more controversies as the service continues to expand.
I don't know how to ethically navigate any of this. If this was a paid newsletter, I'd donate a hefty portion of my monthly profits to transgender health and equity nonprofits. But this is a free newsletter and will remain a free newsletter. I'll keep assessing my options and trying to find a service that's more ethically sound. Or hopefully I'll at least come to a conclusion that doesn't feel like I'm exploiting others in exchange for a buttery-smooth user experience.
Nobody can deny the good that social media has done in the world—it's given a voice to people who have historically been locked out of mainstream media. But all of these networks, from Twitter to Substack to the ancient, dessicated husk that was once known as Facebook, are just too goddamned big. You can't appeal to an audience of billions without stepping on people every time you move.
Well. That's an appropriately spooky place to end on Halloween, I think! Hope this finds you well.